Leading SouthCoast Health Neurologist and Sleep Expert launches free summer lecture series
Monday, July 24, 2017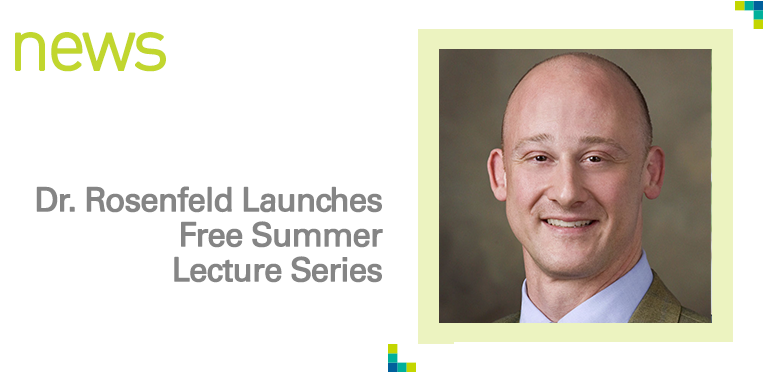 Dr. Victor Rosenfeld, a Neurologist who practices out of SouthCoast Health's Savannah campus, says the most rewarding part of his job continues to be diagnosing complex cases and crafting effective treatment strategies. This summer, Dr. Rosenfeld will be sharing the knowledge he uses by hosting a summer lecture series.
Beginning Aug, 3, Dr. Rosenfeld's lectures explore several hot neurological topics, including Sleep Disorders, Migraines, and Fibromyalgia. These free sessions take place at the Savannah campus (1326 Eisenhower Drive, Building 1, Savannah).
"The nervous system is the most complex system of the body," Dr. Rosenfeld said, "and there can be a multitude of causes for any particular neurologic symptom, which makes my job like that of a detective."
With his lecture series, Dr. Rosenfeld pulls back the curtain on his detective skills. It kicks off with a session entitled Update on Sleep Medicine. As an acclaimed sleep medicine specialist, Dr. Rosenfeld examines several subjects, including sleep apnea, restless legs, insomnia, parasomnias, hypersomnia, and sleep strategies.
A pair of lectures follow on Aug. 31 and Sept. 28. These focus on Migraines and Fibromyalgia, respectively. Each lecture begins at 6:30 p.m.
"I'm incredibly grateful for the opportunity to step outside of the office and talk about these topics with an audience," said Dr. Rosenfeld. "The first step of overcoming a condition or illness is awareness. Hopefully these lectures will allow me to take that step with others."
To learn more about services offered or to request an appointment, visit SouthCoastHealth.com. Dr. Rosenfeld's office can be reached at 912-691-3640.
Quick Information:
Dr. Victor Rosenfeld Summer Lecture Series
6:30 p.m. Aug. 3: Update on Sleep Medicine
6:30 p.m. Aug. 31: Headaches: Diagnosis and Treatment
6:30 p.m. Sept. 28: Fibromyalgia Update
Location: SouthCoast Health Savannah campus, 1326 Eisenhower Drive, Building 1, Savannah.
---
Whether you are looking for a primary care doctor or a pediatrician, an ObGyn or another medical specialist, SouthCoast Health has you covered with its wide range of world-class healthcare services, available throughout the Coastal Empire and Lowcountry. SouthCoast Health has 120 physicians and medical professionals in 18 locations in Savannah, Richmond Hill, Pooler, Rincon, Baxley, Bluffton, Hilton Head, and Hinesville. SouthCoast Health offers comprehensive medical services including: Family Medicine, Internal Medicine, Obstetrics & Gynecology, Pediatrics, Allergy and Immunity, Cardiology, Eye Care, Imaging, Infectious Diseases, Nephrology, Neurology, Physical Therapy, Podiatry, Pulmonology, Sleep Medicine, Surgery, Clinical Trial Research Studies, Diabetic Self-Management Training Sessions, Dietetic Counseling, High Risk Breast Cancer Clinic, Laboratory Services, Massage Therapy, Optical Shop, Pharmacy, and Urgent Care.