SouthCoast Health Welcomes Dr. Scott Callaghan and Dr. Sarah Jarrell
Tuesday, June 6, 2017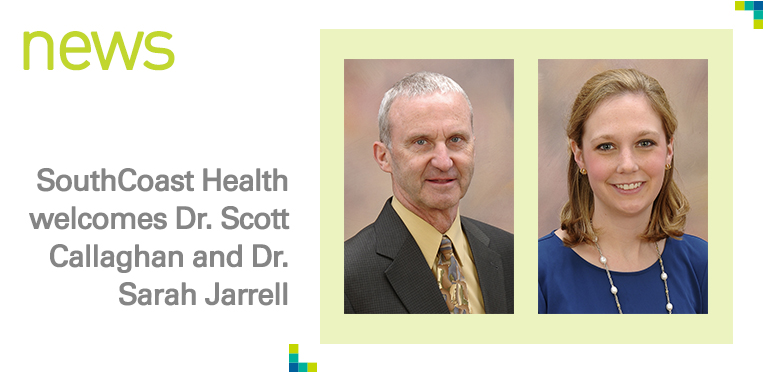 SouthCoast Health is excited to welcome Dr. Scott Callaghan, a neurologist, and Dr. Sarah Jarrell, an obstetrician and gynecologist, to its team of physicians.
Dr. Callaghan sees patients at 1326 Eisenhower Drive, Building One in Savannah and at 89 Interchange in Richmond Hill. Dr. Jarrell serves out of the Candler Hospital Campus at 5353 Reynolds St., Suite 300 in Savannah.
"At SouthCoast Health, we pride ourselves in building an esteemed team of enthusiastic medical professionals, each with a deep passion for the respective fields," said SouthCoast Health Administrator John Marrero. "We're honored to have both Dr. Callaghan and Dr. Jarrell as the latest additions to our roster."
Dr. Callaghan received his Doctor of Medicine degree from the University of Medicine and Dentistry of New Jersey, School of Osteopathic Medicine and is board certified by the American Board of Psychiatry and Neurology and the American Board of Neuromuscular and Electrodiagnostic Medicine. Dr. Callaghan began his career as a neurologist at Yellowstone Neuroscience Center in Billings, Mont. and worked there for five years. He followed that position with a five-year stint at Coastal Neurosciences, P.C. in Somers Point, NJ. He spent the past 15 years with Neurological Associates of St. Paul, P.A. in St. Paul, Minn. Dr. Callaghan participates in the American Academy of Neurology's Continuum: Lifelong Learning in Neurology program.
Dr. Jarrell received her Doctor of Medicine from Mercer University School of Medicine. She performed her residency in Obstetrics and Gynecology in Savannah at Memorial Health. Soon after, Dr. Jarrell joined SouthCoast Health. She earned memberships in several prestigious medical organizations: the Georgia OBGyn Society, the American Medical Association, and the Council on Resident Education in Obstetrics and Gynecology of the American College of Obstetricians and Gynecologists (CREOG-ACOG).
To learn more about services offered or to request an appointment, visit here. Dr. Callaghan's offices can be reached at 912-691-3640. Patients can call Dr. Jarrell's office at 912-355-4427.
---
Whether you are looking for a primary care doctor or a pediatrician, an ObGyn or another medical specialist, SouthCoast Health has you covered with its wide range of world-class healthcare services, available throughout the Coastal Empire and Lowcountry. SouthCoast Health has 120 physicians and medical professionals in 18 locations in Savannah, Richmond Hill, Pooler, Rincon, Baxley, Bluffton, Hilton Head, and Hinesville. SouthCoast Health offers comprehensive medical services including: Family Medicine, Internal Medicine, Obstetrics & Gynecology, Pediatrics, Allergy and Immunity, Cardiology, Eye Care, Imaging, Infectious Diseases, Nephrology, Neurology, Physical Therapy, Podiatry, Pulmonology, Sleep Medicine, Surgery, Clinical Trial Research Studies, Diabetic Self-Management Training Sessions, Dietetic Counseling, High Risk Breast Cancer Clinic, Laboratory Services, Massage Therapy, Optical Shop, Pharmacy, and Urgent Care.