Kysia Davis Finds Relief from Daily Headaches Thanks to SouthCoast Health Physical Therapist Lisa Bettio
Tuesday, June 6, 2017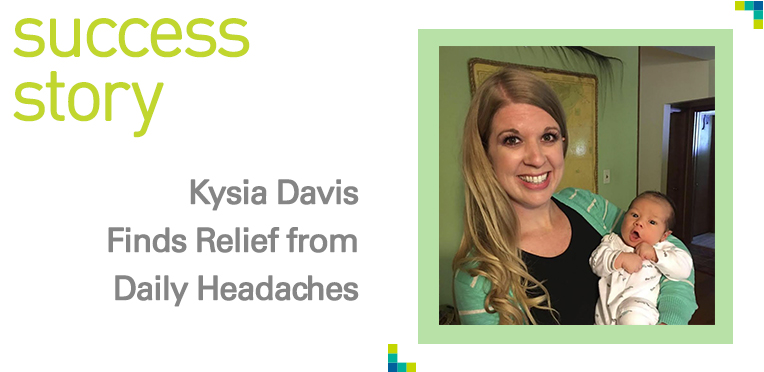 Each day an annoying headache would cast its shadow upon Kysia Davis like a storm cloud on a summer afternoon. Although Davis could function, the Savannah-based dental assistant grew tired of the perpetual problem.
After nearly 15 years of daily headaches, she had enough.
Approximately two years ago, Davis acquired health insurance. Her first course of action would be to try and uncover the cause of the headaches. Davis went straight to a neurologist. Since her symptoms weren't severe –no light sensitivity, nausea, or dizziness—her doctor chose a medicinal route. Yet, four different rounds of medication did nothing.
"Finally, after my fourth medication," Davis recalled, "I said, 'Could you just do an MRI and make sure there's not something living in my brain that shouldn't be?'"
An MRI revealed Davis had hydrocephalus, also known as water on the brain. A neurosurgeon suggested Davis have brain surgery to allow the cerebral spinal fluid to flow, thus relieving the pressure likely causing the head pain.
"I was so excited knowing that things would get better," Davis said.
On November 1, 2015, Davis awoke from surgery to find that constant companion still pounding inside her head. This continued for two months, and Davis' surgeon suggested she get a second opinion.
A trip to the Mayo Clinic in Jacksonville, Fla. followed. There she saw both a neurosurgeon and a neurologist. The neurosurgeon told her she might need more recuperation for the pain to subside. The neurologist suspected Davis' headaches were being caused by hyperflexibility in her neck.
Meanwhile, Davis began researching other treatment options. Throughout 2016, she visited more than 20 doctors and specialists in the Savannah area, ranging from an ENT and a nasal surgeon to an acupuncturist and a chiropractor. Davis returned to the Mayo Clinic to visit a neuro-ophthalmologists to see if her eyes were the cause of the problem. Nothing helped.
In early 2017, Davis found her way to SouthCoast Health's Pooler location. After learning SouthCoast therapist Lisa Bettio specialized in headaches, Davis decided to try physical therapy. Fortunately, Bettio would prove to be Davis' saving grace.
"She immediately knew it was my posture," Davis said. "She said it was the way that I was standing, and she noticed I was pulling my whole head and muscles forward."
Since Davis had visited a myriad of specialists, this posed a challenge, Bettio says. According to the therapist, the art of deduction came into play.
"I had to look at the whole picture to see what was going on," said Bettio. "It's not just focusing on the neck, ears, or eyes. You have to look at the whole body system in order to see how it's related to the problem area."
After conducting an evaluation to pinpoint Davis' difficulties, the clinical findings did lean toward poor posture. Davis' forward head position led to some of her issues. In layman's terms, Davis has a larger-than-average head and a long neck without enough muscle for support.
The first few sessions focused on specific trigger point work in the neck musculature. Then Bettio began incorporating treatment on the TMJmusculature, including use of a cold laser on a specific ganglion/nerve cell cluster that has been linked to headache disorders. Postural stabilization exercises came next, with an emphasis on the upper trapezius muscles, which are located in the neck and shoulder.
"I've been 5'10" since I was 12 years old," Davis said. "Needless to say, when you're a 12-year-old and you're almost 6-feet tall, you try to shrink yourself. So I've always kept my shoulders rounded and my head forward. And now it's evidently come back to haunt me."
However, after just one visit with Bettio at SouthCoast Health, Davis noticed a drastic change. Her headaches disappeared for nearly two weeks. Now less than four months after that initial visit, Davis' headaches remain under control. She continues visiting Bettio weekly or biweekly for maintenance.
While her daily headaches are basically gone, Davis says factors including certain scents, hunger and sun exposure can bring on a headache. Now, however, Davis is equipped with a tool belt of exercises to use when needed.
"When a headache does come on," Davis said. "I can do some stretches and exercises, and usually it will either completely go away or at least relax a bit."
During a recent physical therapy visit, Davis had a mild headache. After a 30-minute session with Bettio, the pain vanished.
Thinking outside of the box, Davis says, is what led her to SouthCoast Health. She suggests to never hesitate getting a second opinion. For her, perseverance paid off, eventually causing her storm cloud of headaches to disperse.
"SouthCoast Health is amazing," she said. "I couldn't be happier. They've changed my daily life from being in pain constantly to hardly having any. I owe them a lot."
---
Whether you are looking for a primary care doctor or a pediatrician, an ObGyn or another medical specialist, SouthCoast Health has you covered with its wide range of world-class healthcare services, available throughout the Coastal Empire and Lowcountry. SouthCoast Health has 120 physicians and medical professionals in 18 locations in Savannah, Richmond Hill, Pooler, Rincon, Baxley, Bluffton, Hilton Head, and Hinesville. SouthCoast Health offers comprehensive medical services including: Family Medicine, Internal Medicine, Obstetrics & Gynecology, Pediatrics, Allergy and Immunity, Cardiology, Eye Care, Imaging, Infectious Diseases, Nephrology, Neurology, Physical Therapy, Podiatry, Pulmonology, Sleep Medicine, Surgery, Clinical Trial Research Studies, Diabetic Self-Management Training Sessions, Dietetic Counseling, High Risk Breast Cancer Clinic, Laboratory Services, Massage Therapy, Optical Shop, Pharmacy, and Urgent Care.